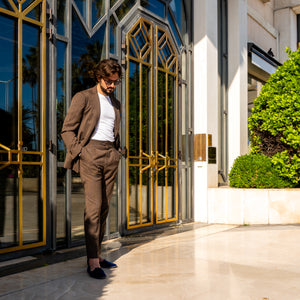 values
HIGHEST QUALITY
Each garment is crafted with the highest quality materials and inspired by traditional Italian tailoring techniques to ensure an impeccable silhouette, elegance and quality.
We take great pride in our skilled artisans, who master the Sartorial Art and work tirelessly to ensure that every garment is made to perfection and is a true reflection of your personal style.
ELEGANCE & COMFORT
We embarked on the adventure of "making the world more elegant"with the belief that the elegance is still an essential part in fashion, despite the trends of fast fashion and lower quality. We are positioned as the antithesis of this, offering timeless yet contemporary garments that are made-to-measure, ensuring the perfect fit and true comfort. This commitment ensures that our garments are not only beautiful but also sustainable, providing you with a wardrobe that you can be proud of.
ITALIAN HERITAGE
We take inspiration from the rich history and tradition of Italian Style. Our garments embody elegance, sophistication attention to detail and high-quality craftsmanship that is synonymous with Italy. From the selection of high-quality fabrics to the meticulous construction process, every aspect of our garments embodies the values of Italian heritage.
AT CARLO GIOVANNI 1927, WE HAVE A STRONG AND GENUINE DEDICATION TO CRAFTSMANSHIP, CUSTOMISATION AND HERITAGE THAT IS WOVEN INTO EVERY ASPECT OF OUR CLOTHING.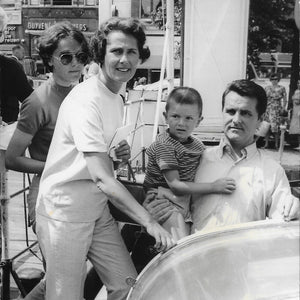 HERITAGE
Today, passion is at the heart of Carlo Giovanni 1927. Working with quality materials, perpetuating a family tradition and building relationships with our customers are our priorities. We embarked on this adventure with the vision of "making the world more elegant". Our mission to achieve this, is to advise our customers as well as possible and to transmit to them the elegance and refinement that we love so much in our collections.
"Italians do it better" is a phrase that was often repeated to me by my grandfather. I have always shared this opinion about suits. In particular, I have childhood memories of marvelling at tailor's windows in the streets of Milan and it is an honour for me to carry on this family heritage. "Italian Class" is more than an attitude, it is first and foremost values passed on from father to son.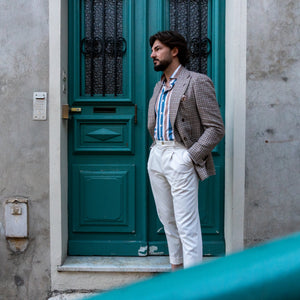 ELEGANCE
Although society has evolved, one thing remains certain: the suit is still an essential part of men's fashion. When you think of the word "elegance", the image of a man in a suit immediately appears in your mind. Current trends and Fast-Fashion are making clothes more sporty and of lower quality, therefore they are not sustainable. Carlo Giovanni 1927 is positioned as the antithesis of this.
Our suits are specifically designed to fit the modern day gentleman, his challenges and his environment. Whether it's a business meeting, a dinner with friends, or a summer Sunday with the family, your Carlo Giovanni 1927 creation will fit into your daily routine, guaranteeing flawless elegance. You will immediately be charmed by the quality of our fabrics and the finesse of the workmanship. It is said that a suit has the virtue of making a man feel confident. We wish to accompany Gentlemen with garments adapted to their size, their morphology and thus allow them to feel good about themselves but also to exude a natural confidence.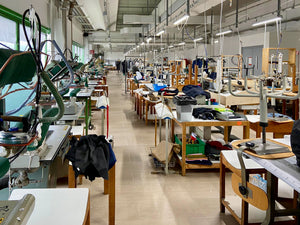 highest quality
Italy has been a pioneer in men's fashion for decades. The quality of the fabrics used and the talent of the workforce gives a real soul to the clothes. Carlo Giovanni 1927 is environmentally conscious and ensures a short circuit in the manufacture of its creations. Our network of suppliers extends over a small area in Italy and Europe. They are also chosen according to their ethical approach in the design of the fabrics and the research of the raw material. Buying a Carlo Giovanni 1927 garment is about countering the effects of Fast-Fashion and is about longevity and sustainability. 
Today, the soul of Carlo Giovanni 1927 lies in its extraordinary network of suppliers. Passionate and committed to their craft, they are above all masters of the "Sartorial Art". A visit to one of the workshops will instantly capture the tradition and emotion that emanates from it.
made-to-measure
Discover more information about the facts and benefits of a Made-to-Measure garment.
book an appointment
Feel free to book an appointment with us to create your unique Made-to-Measure garment.
GET IN TOUCH WITH US
Contact us to book a free consultation and discuss your future personalised garment. 
Please click on the below button and we will get in touch with you within 48 hours. 
Looking forward to get to know you!