"Whenever I bought clothes, I would always try to find something that other people didn't own or wear."
it all began with this man
Carlo Giovanni is, and will remain, the inspiration for this brand. Fashion and creativity were an important aspect throughout his life and work.
As an architect who values creativity and taste, his sensibility from his craft, inspired a passion for menswear and he developed an exquisite personal style, which he passed on to his future generations.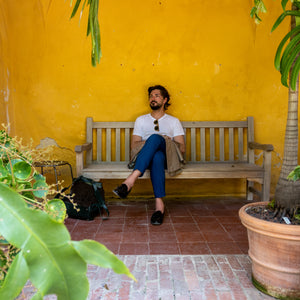 future generation
Elia Galli, founder of the brand and grandson of Carlo Giovanni, decided to create the brand Carlo Giovanni in honour of his grandfather. This is a way to pay tribute for everything he taught him.
As a child, Elia would wear Carlo's clothes as a "game". Once he grew up, he could finally wear them. Due to the quality craftsmanship, even today they still look modern and timeless.
Wearing clothes from past generations, is a tribute and a memory that will last a lifetime. 
heritage
Today, passion is at the heart of Carlo Giovanni 1927. Working with quality materials, perpetuating a family tradition and building relationships with our customers are our priorities. We embarked on this adventure with the vision of "making the world more elegant". Our mission, to achieve this, is to advise our customers as well as possible and to transmit to them the elegance and refinement that we love so much in our collections.
elegance
Although society has evolved, one thing remains certain: the suit is still an essential part of men's fashion. When you think of the word "elegance", the image of a man in a suit immediately appears in your mind. Current trends and Fast-Fashion are making clothes more sporty and of lower quality, therefore they are not sustainable. Carlo Giovanni 1927 is positioned as the antithesis of this. MTM is the best way to make a unique garment.
highest quality
Today, the soul of Carlo Giovanni 1927 lies in its extraordinary network of suppliers. Passionate and committed to their craft, they are above all masters of the Sartorial Art. A visit to one of the workshops will instantly capture the tradition and emotion that emanates from it.
made-to-measure
Discover more information about the facts and benefits of a Made-to-Measure garment.
book an appointment
Feel free to book an appointment with us to create your unique Made-to-Measure garment.
GET IN TOUCH WITH US
Contact us to book a free consultation and discuss your future personalised garment. 
Please click on the below button and we will get in touch with you within 48 hours. 
Looking forward to get to know you!